This is the first article in a series by our Research Intern, Odette Lees.
Investment into early-stage companies1 in New Zealand has been growing rapidly over the last 10 years. This is shown through increases in both Angel and VC funding collectively, as well as through increases in the average deal size year on year. Overall, more companies are needing more capital each year, and the industry has been trying to rise to meet this demand.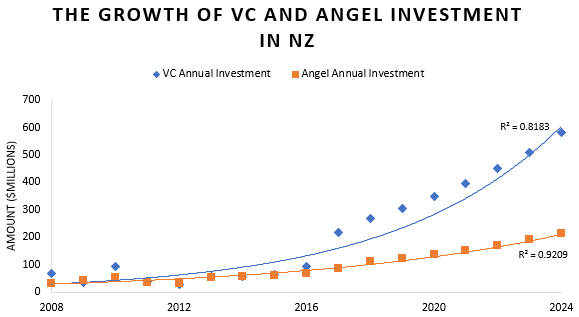 In 2011, NZVIF estimated that $2 billion would need to be invested over the next 10 years to support the next generation of start-ups in NZ2. Almost 90% of that investment has already been made in the last 7-8 years, and with the current annual growth of investments made into early stage companies, an additional $1 billion may be invested by 2021.
So, what does this mean for the early stage industry as a whole? Over the next 5 years, we estimate that a total of $3.15 billion needs to be invested to keep up with the growth of the early stage start-up industry and its investment demands.
Efforts have been made to try and achieve this, with the government unveiling a new $300m early-stage intervention this year, and Simplicity pledging to invest $100m into early stage companies (through Icehouse Ventures) over the next 10 years. When factoring in these interventions and increases in VC capabilities over the next 5 years, there is an estimated $1.7-1.9 billion available from angel groups and venture capital funds to invest into early stage businesses. Family groups and independent angels which are not formally recorded will account for further available money, and if private equity funds are included, that number jumps to $3.2-3.4 billion.
These numbers show that over the next 5 years, the funding gap will shrink significantly. This is dependent on the deployment of all the available capital and cash going to all the right places. It doesn't mean that the funding problem will be solved in this time frame. However, it does show that the government intervention is well-sized to address the funding issue.
There are several possible situations that could arise which would affect the closure of the gap, despite the favourable position the industry appears to be in at the moment. One is that an injection of more available money will increase the rate of growth of start-ups in New Zealand in which case, the gap would widen again.
Another is that if the assignment of that capital is not balanced to ensure companies are able to be financed across all stages of investment i.e. pre-seed to Series A+, then the Series A gap will remain. Angel investors and early-stage VC funds in New Zealand who focus specifically on pre-seed and seed investments invest heavily in New Zealand, and if money pours in solely at this stage, it will become harder for companies to access money once they progress past it. The government intervention will specifically address this Series A gap, with funding provided if VCs can match that funding and invest 70% of their total capital into Series A and B deals in New Zealand3. Alongside these funds, who will focus on addressing the Series A gap, it will also be important for smaller funds to ensure they can provide sufficient follow-on capital to their portfolio companies.
While the short-term funding landscape is looking relatively bright, there is not much room for industry change before the gap becomes significant again. Sustainable, long-term solutions need to be implemented in the next 5 years, and beyond, to ensure that the industry can keep up with the dynamic start-up landscape. In the next article, we will discuss three possible solutions to help keep the gap closed.
Matū is a venture capital fund that targets very early-stage science and technology projects being commercialised out of research institutes and in the private sector. Following the principle of mohiotanga, we seek to share insights from our research where possible, in order to build on the knowledge already in the community and help enable people to act.
---
1 Early stage is referred to as investments made into start-up companies by venture capital funds or angel investors from Seed capital up until Series A+.
2 New Zealand Private Equity & Venture Capital Association, "Ensuring Venture Capital Plays Its Part in Growing the NZ Economy," November 2011.
3 Simmonds Stewart, "Venture Capital Fund Bill," September 6, 2019, https://simmondsstewart.com/blogs/venture-capital-fund-bill/.
The information contained in this blog post is published for educational purposes only and is only intended to provide general information or opinions. It does not constitute financial advice or a recommendation of any financial product and should not be relied upon as such. You should not use any information in this blog to make financial decisions and we highly recommended you seek professional advice from someone who is authorised to provide investment advice. While all reasonable care has been taken in the preparation of this blog post, no member of the Matū Group accepts any liability for any errors it may contain.